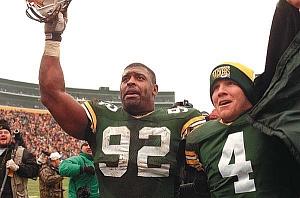 With the 90's currently underway, can Reggie & Brett bring back title town to Green Bay?
---
TEAMS AVAILABLE FOR the UPCOMING 1989 & 1995 SEASONS:
2014 NFL (in progress)
1996 (spring 2016)

Atlanta Falcons
Carolina Panthers
Jacksonville Jags
Minnesota Vikings
New York Jets
Oakland Raiders
Tampa Bay Bucs
Tennessee Titans
Washington Redskins

Atlanta Falcons
Buffalo Bills
Baltimore Ravens
Detroit Lions
New Orleans Saints
New York Jets
San Diego Chargers
Tampa Bay Bucs
The "AS REAL AS IT GETS" simulation football league is a unique format that allows any and all to get involved in the replay of football history. You can select a single team and play them for an entire season OR play a different team each and every week! In any case, you will be part of a project that will simulate the NFL of the past throughout 75 plus years of football history...grab your favorite team(s) now!
HOW IT WORKS:
NO TRADING, NO DRAFTING....just strictly your chance to coach your favorite teams of the NFL. All statistics (including your personal coaching performances) will be compiled to establish our own stats record book!
You can claim 1 team per season for yourself and play them through the season. You can also help pick up OPEN teams and play additional games if you like. We would like to have EVERY game have a human touch to it if we could. Our goal is to have every player on a team get close to their appropriate number of attempts/games played....thus, giving us a true replay of NFL history.
LEAGUE FOCUS:
To create our own history of football (see ARAIG HISTORY link in left column) using the Action PC player disks and current DKS Action Football software. In order to do this we will have to commit our focus on the following:
1) During the course of an entire season: all members MUST try and get ALL their skill players as many attempts as possible. Trying to reach or get as close to their actual NFL attempts (without going over abusively) that each player had during their REAL NFL seasons.
2) Every game will have a human touch. Either by Head to Head, League play (human coaches both teams offenses) or Human vs. computer. We will try and SIM. very few games. This will allow us to monitor attempts usage for all teams.
3) That's about it! #1 is very important to our league if you are thinking about joining. And if you do not decide to jump in on the fun, then hopefully you can browse around our archives section and see how close we can come to the real thing!!!
LEAGUE DUES:
FREE!
WHAT I NEED TO PLAY:
The Current Action PC Software by Dave Koch: currently 2016 and it's current service patch.
Proof of ownership of the current season being played.
Working e-mail address and internet connection for Head to Head play, plus an updated MEMBERSHIP page.