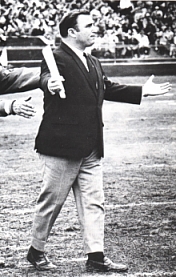 Coach Hank Stram postures to the crowd as the Kansas City Chiefs win Super Bowl IV.
---
1969 NFL Season:
Week 17 Recap: SUPER BOWL IV

17 Minnesota 10 vs Kansas City 27
In a blustery, cold day at Arrowhead, KC road its defense to the Super Bowl IV Championship. Highlights follow:
1st Quarter - KC won the toss and elected to receive - this decision probably wasn't the best idea since both team's defenses were their dominant squads. KC is called for a penalty on the KO return and are backed up inside their 10. A three and out and a short punt into the wind puts Minnesota in KC territory at the 48. Minn is only able to gain 5 yards. They punt and KC is again backed up on their 6. After a penalty takes the ball back to the 3, KC again goes 3 and out and punts into the wind. Minnesota gets the ball on KC's 39 this time around. A holding call on first down really hurts and KC gains 17 yards to take the ball to the KC 37 where a pooch punt rolls into the end zone. KC starts on their 20 where Dawson gets sacked on first down - which leads to another 3 and out for KC. A long KC punt flips the field for the first time and Minn is forced to start their third possession on their own 28. On third down, Kapp throws the first of his interceptions to KC's Marsalis who returns the ball to the Minn 9 yard line. Two sweeps and McVea scores on a 5 yard run to put KC up 7-0 with 4:43 left. KC kicks off and after a Minn 3 and out, KC gets the ball on their 20. Holmes rushes for 13 and KC's initial first down of the game (they only had 7 the entire game). KC punts again and Minn takes over on their 39 ending the quarter.
2nd Quarter - Defense dominates again...Minnesota gets 1 first down to cross mid field but on 4th down a lousy 7 yard punt gives KC good field position at their own 34. Holmes rushes for 10 but fumbles the ball and Minn gets the ball again (4th time) in KC territory. However, on the very first play, Kapp throws his second interception to Robinson and a long return give KC the ball at the Minnesota 31. Three rushes and a 5 yard defensive penalty puts the ball at the 11 and McVea rushes for 11 to score and KC takes a 14-0 lead. Minnesota receives the KOff and again is forced into a 3 and out. KC receives the punt on the 42 drives to the Minnesota 38 and kicks a long 45 yard FG to take a 17-0 lead. Minnesota gets one first down and then Kapp throws his third interception of the half, this time Thomas takes it back 47 yards for a score and KC leads 24-0 with 2:42 left in the half. Minn goes 3 and out again and with time running out, Dawson throws a deep interception to end the half.
3rd Quarter - no scoring by either team, defense rules. Minnesota takes the kickoff, drives down the field to the KC 22. Trailing 24-0, on 4th down, they pass up a sure 3 points and throw an incomplete pass on 4th down. KC is happy just running the ball and punting if they don't pick up a first down...both teams can't move the ball and the quarter ends.
4th Quarter - It was more of the same for the first two possessions of the quarter but Kapp throws his 4th interception deep in his own territory and KC takes over on the Minn 14...three rushes and KC is forces to kick a 19-yard FG to take a 27-0 lead with 9:32 left. The teams trade punts again and then Minn drives from their own 37 to the KC 9 where they finally score on a 16 yard FG with 3:43 left in the game. KC again goes 3 and out and Minn gets the ball one last time at the 50. With KC playing a deep pass defense, Minn drives the 50 yards and scores with :49 left to close to 27-10. An on-side kick fails and KC runs out the clock to win Super Bowl IV.
Both teams played great D, but KC took advantage of 4 key Kapp interceptions to score three TDs and a FG. No drive was more than 31 yards.
KC only threw 6 passes on a windy day - committed to play defense and let their D and special teams win the game. Kapp was a miserable 15 for 38 with 4 interceptions. He was also sacked 5 times.
The two teams were a combined 3 for 29 on 3rd down.
Minn had a net offense of 229 yards, KC only 147 yards.
Congratulations to Marvin Sik for a great season!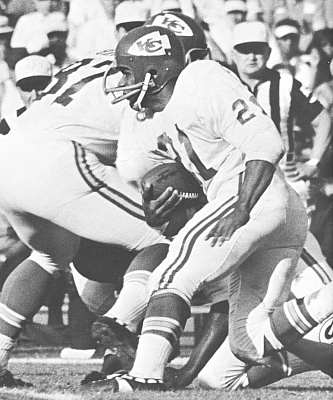 Mike Garrett carried the Chiefs to the AFL title as KC downed Oakland 42-38 in a championship thriller.
---
1969 AFL Season:
CURRENTLY UNPLAYED -
None
Week 16 Recap: AFL CHAMPIONSHIP

16 Kansas City 42 at Oakland 38
Headline: Barnburner in Oakland for the 69 AFL Championship Game
Football prognosticators fully expected the AFL Championship Game to be a low-scoring affair between Kansas City and Oakland. Oakland, because they were playing at home and because they had previously edged the Chiefs the last week of the season was slightly favored.
Oakland won the toss and returned the opening kickoff to the 22. THEN THE FIREWORKS STARTED. Lamonica tossed an innocent little medium fly to Wells and he slipped a tackle and scored on the first play of the game. Sixteen seconds and Oakland takes the lead 7-0. This was just the beginning for the two Oakland stars.
KC takes the following kickoff and drives 63 yards on 11 plays to tie the game at 7. Key plays in the drive were two Dawson to Pitts passes of 13 and 18 yards and a Dawson to Garrett 10-yard TD pass.
Oakland's next drive was stopped on the KC 10 when Marsalis intercepted a Lamonica pass, KC picks up one first down but has to punt to Oakland. The teams trade punts until KC drives 80 yards on 6 plays and scores with 10.17 left in the 2nd quarter on a Garrett 21 yard pass from Dawson. Pitts caught a 30-yard strike from Dawson to open the drive.
Oakland bounced right back drove 71 yards but stalled on the KC 9 and settled for a Blanda 16-yard FG to close to 14-10. KC showed some offensive spark as McVea took the first play after the kickoff and split the Oakland D for a 80-yard TD run to open the lead to 21-10.
Oakland's Lamonica threw his second interception on the next series and Kearney returned it 49 yards for a TD to push the KC lead to 28-10. All day long, KC had no answer for Lamonica and Wells as Oakland drives the length of the field in the last 2 minutes and score on a 14-yard pass to close to 28-17 at half time. Biletnikoff had a key 27 yard reception in the drive.
KC takes the 2nd half kickoff gets a first down but a Holmes fumble is recovered at the KC 30 and 4 plays later Lamonica hits Wells on a 41-yard TD strike to make the score 28-24 KC at 11:10 of the 3rd quarter.
KC is forced to punt and Oakland drives again into KC territory where Lamonica tosses his 3rd interception to Lynch. KC drives to the Oakland 3 yard line but has to settle for a 10 yard Stenerud FG. KC is up 31-24 at 10:30 in the 4th Quarter.
Oakland has to punt no their next possession but Dawson throws an interception deep in KC territory and Oakland has life. After a 15-yard penalty, Lamonica again throws a TD to Wells (his 4th), this time a 36-yard strike to tie the game at 31 with 7 minutes left in the game.
KC is again forced to punt and Oakland gets the ball on their 47 with 3:53 left. With Oakland driving for the winning score, Lamonica tosses the ball to Wells who makes the catch and fumbles the ball to Culp who returns the ball 82 yards for KC. 38-31 KC with 1:45 left in the game.
Oakland again comes back and scores on a 62-yard TD pass to Wells with 34 seconds left to tie the game.
KC wins the toss and receives the ball in overtime...they drive from their 35 to the Oakland 29 and Stenerud kicks the game winning 36 yard FG at 10:59.
Key Stats:
KC - 270 yards rushing
Oak - 412 yards passing
Holmes 16 carries, 105 yards for KC
Wells, 7 catches, 285 yards and 5 TDs for Oakland
Garrett, 5 catches for 79 yards, 2 TDs, and 77 yards rushing
Lamonica, 17 for 35, 412 yards, but 3 Interceptions
Turnovers - KC 2, Oakland 4
---
Commish Chad Weyenberg: cweyenberg12@gmail.com
---
Last updated: 12/31/08


The ARAIG Football Uses Action! PC Football for Windows Software