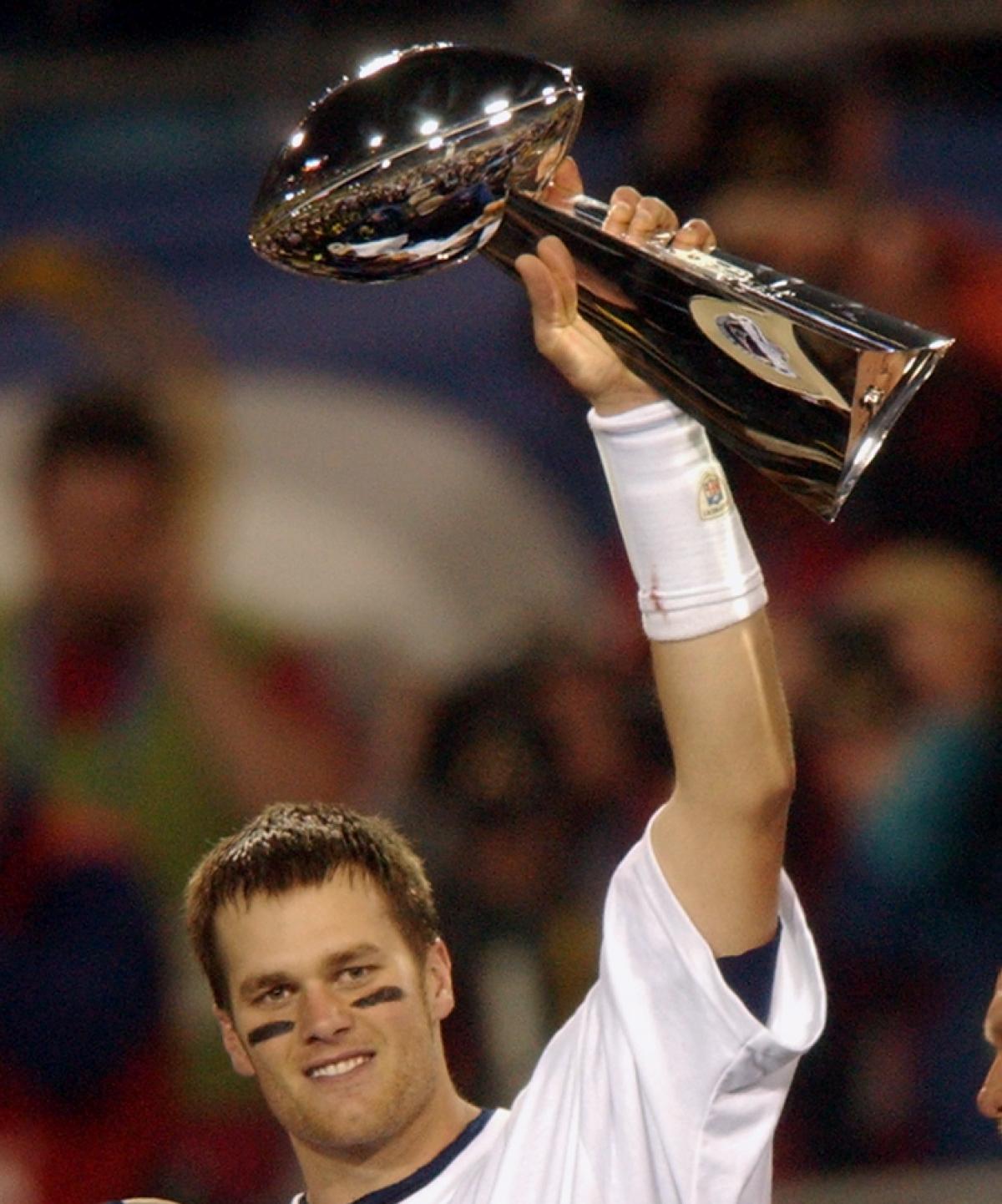 Tom Brady helps Nuevo capture Super Bowl XIV.
OPEN TEAMS: Washington & Pittsburgh
Nuevo comes from behind to defeat Wichita in double overtime to win Super Bowl XIV
Super Bowl XIV lived up to the billing of a great Super Bowl as Nuevo and Wichita squared off. Wichita got off to a quick star taking the opening kickoff 68 yards in 11 plays and Matt Bryant connected from 28 yards out to make it 3-0 with 9:44 left in the first quarter. Wichita's defense forced a 3 nd out and Matt Ryan lead a 77 yard 9 play drive with Doug Martin scoring from 3 yards out to make it 10-0 with 3:54 left in the first. Nuevo answered with a 57 yard 9 play drive and Ryan Matthews capped the drive with a 4 yard run to make it 10-7 the first play into the second quarter. After both teams punted Wichita drove 590 yards and martin ran it in again from 3 yards out to make it 17-7 at the half.
Nuevo got the ball to start the second half and a stout Wichita defense held on 3rd and 4th at one as Nuevo gambled and took over at the 34 yard line. 5 plays later Martin ran in his third TD of the game making it 24-7 with 10:16 left in the third. Nuevo responded with a 67 yard 8 play drive and Brady hit Malcolm Floyd for a 17 yard strike to make it 24-14 with 7:26 left in the third quarter, Nuevo forced a quick 3 and out and quickly drove the ball to the Wichita 26 but got stuffed on 3rd and inches and decided to kick a field goal to make it a one score game. Connor Barth hit the field goal but an untimely holding penalty backed him up 10 yards and he missed a 54 yard field goal with 3 minutes left in the third.
Wichita sensing momentum converted a 4th and 4 for a 39 yard short slant pass from Ryan to Torrey Smith to make it 31-14 with 14:54 left. Tom Brady answered with back to back 40 plus yard passes and in 3 plays drove 92 yards and finished the drive with a short pass to Brandon Myers to keep Nuevo alive down 31-21 with 13:43 to play. Nuevo defense again made a key stop and forced a quick punt but Connor Barth missed from 44 yards out to seemingly end Nuevo's chances with 9:40 left but three plays later Nuevo's defense finally came up with a big play and Cortland Finnegan intercepted Matt Ryan to give Nuevo hope. Brady hit a couple of passes but the drive stalled and this time Connor Barth came through from 53 yards out cutting the lead to 31-24 with 6:56 left. Nuevo forced a three and out and quickly went 63 yards in 5 plays with Brady hitting Steve Smith from 26 yards out with 4:22 left to tie the game at 31. Wichita controlled the ball the next four minutes but couldn't get to midfield and time ran out in regulation.
Nuevo got the ball first in OT and Brady remained hot driving the ball to the Wichita 24 but took a key sack on 2nd down setting up a 3rd and 15. Brady hit Reggie Wayne for 15 yards but was measured just short of the first down. Faced with a tough choice they decided to take the points and Barth hit from 34 yards out to make it 34-31. Wichita got the ball after a good Jacoby Jones return at the 38 and Everson Griffin saved the day with a sack at the 11 yard line and Wichita was forced to send out Bryant for a 31 yard tying field goal setting up sudden death with 1:29 left in the first overtime. Kyle Love sacked Brady for a 7 yard loss on first down setting up 2nd and long but Brady hit Floyd for 16 and Tate on a check down to keep the drive alive at the 37. Nuevo mixed the pass and a few runs to get to the 30 yard line. Wichita stuffed out 2 runs for a one yard loss setting up 3rd and 11 but Brady was able to get 9 yards on a slant to Wayne setting up a 40 yard Connor Barth game winning field goal.
Though Nuevo outgained Wichita 544 to 396, Wichita was in control most of the game with their 201 rushing yards. Wichita had the only turnover in the game but Nuevo committed 7 penalties to Wichita's 1. Wichita was also very clutch on 4th down converting 3-3 while Nuevo had a very costly turnover on their only attempt.
Tom Brady was MVP hitting 39 of 62 passes for 477 yards and 3 TDs. Malcolm Floyd caught 7 of them for 133 and a TD, Steve Smith added 9 for 103 and a TD and Reggie Wayne and Brandon Myers 8 each for over 80 yards each. Ben Tate chipped in with 61 yards on 10 carries. Wichita was lead by Doug Martin's 20 carries for 165 yards and 3 TD's. Matt Ryan had a good game with 23 of 33 for 223 and a TD. Torrey Smith was the leading receiver with 5 catches for 71 yards and a TD. Defensive starts for Nuevo were Rob Jackson who stepped up for Clay Matthews who was injured early with 12 tackles and Chris Long who had 5 tackles and 4 stuffs. Connor Barwin of Wichita was the best defender on the field with 10 tackles, a sack, a stuff and a pass defend.
---
Commish Cliff Dolgins: cdolgin@attglobal.net
E-mail Chad the WEB DESIGNER at: cweyenberg12@gmail.com
---
We do not have league dues: FREE!

---
INTERESTED OWNERS PLEASE READ!
---
Currently, we have 24 owners, to play in a HEAD TO HEAD football league using Action PC 2017 software. We will be starting our 17th season of league play using the 2016 NFL season disk and advancing through NFL history (only 1 season played per year). We will plan on starting the draft in August and all owners must own a copy of the Action PC 2017 for Windows software . This league will all but require its members to play Head to Head over the internet, so do not join if you do not think you can fill this commitment. If interested in being placed on our waiting list e-mail contact the commish

Last updated: 8/27/17


The TAFL Football Uses Action! PC Football for Windows Software